I've had a lot of fun compiling cryptic crossword puzzles since 2001, first for 1 Across magazine and since 2008 for the Guardian. I hope you've enjoyed solving them, and will enjoy discovering more. I like to hear from my victims, so do keep in touch …
The Mystery of Crosswords
I'm taking bookings for my new talk, intended for general interest groups who may or may not know the first thing about crosswords, which sheds light on the mystery of how they work, where they came from and how they're made. Get in touch now for more details …
Boatman & Friends in Conversation
I enjoyed talking to a packed house at Waterstones Brighton recently with John Halpern (Paul in the Guardian) and Hugh Stephenson (Guardian Crossword Editor).
If your local Waterstones or other bookshop can cater for a decent crowd and you'd like to see me there talking to other luminaries of the crossword world, let me know – better still, tell your bookshop about these events and ask them to get in touch – or if you're organising a festival, talk to me about arranging an In-Conversation event tied in with a short public workshop.
Learn to set crosswords like the professionals
They started as a way of celebrating the centenary of the crossword in 2013, and now they're an institution: they're my Crossword Masterclasses, in which you'll join a small group and find out how to make the most of your inner fiendishness.
There's an intensive class for aspiring setters and advanced solvers run over two afternoons, which will get you creating and appreciating crosswords, and there's an advanced session for previous masterclass graduates. They're everything you need to know to follow in the footsteps of alumni like Basilisk/Jack/Serpent, Bluth/Fed/Django, Carpathian/Vigo, Daedalus, Hudson/Julius/Knut/Magnus, Karla/Prism/Wire, Navy, Soup and many more.
For more details and to book your place on the next class, click here.
Boatman's puzzles inhabit their own world, and even if I'm stumped by the odd clue I could merrily sit staring at his puzzles every day

bingybong
A completely personal, custom puzzle is a great way to celebrate a birthday, anniversary, wedding, retirement, corporate event or any other occasion … or do it just for fun. To find out how to go about creating the perfect present for the word-lover in your life, click here.
A really lovely puzzle—what initially looks like a manual on how to build an alien spacecraft turns out to be deceptively simple

aztobesed
Boatman – the first 50
Collected crosswords from the Guardian and the stories behind them
Enjoy 50 of my crosswords from the Guardian (actually, 51 – there's a bonus puzzle from the online Genius slot), then read the stories and ideas behind them.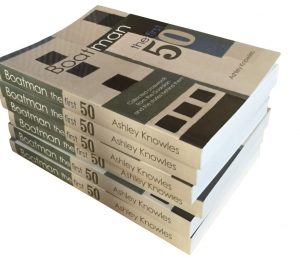 It is an extraordinary pleasure to read how Boatman's unique mind works. The First 50 is a book I never knew I needed in my life. Gift it to yourself and to the word-lovers in yours.

Alan Connor

BBC2 question editor and Guardian crossword columnist
Click here for more about the book, including sample pages, interviews and press releases. You can buy The First 50 from all the usual online and national bookshops. If your favourite local bookshop doesn't stock it, they can order it for you (give them a hint that they should order an extra copy or two for their shelves!) or you can buy direct from my online shop for signed copies and multi-buy discounts.
Luminous intelligence … never remotely frustrating

Dirkybee